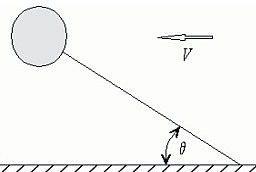 Another use for a balloon
A low-tech method for measuring wind speed in the lower atmosphere uses a balloon filled with helium and tethered to the ground by a very thin and light wire, as shown in the figure. The wind velocity is estimated by measuring the angle θ between the string and the horizontal direction. The following information is given: balloon diameter D=1.2 m; weight of deflated balloon skin, which is very thin: 2 N; wire length L=55 m; air temperature: 20 °C.
a) Determine the wind speed V when θ = 15°, 45°, and 89°.
b) Determine the wire tension T for the above angle values.




Contributed by Stavros Tavoularis, Department of Mechanical Engineering, University of Ottawa, Ottawa, Canada.