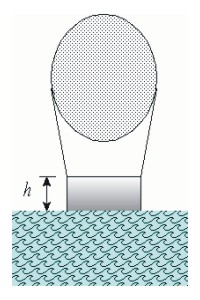 Fresh water transportation
A student team participating in a design competition is considering alternative designs of a floating tank for transportation of fresh water to a dry island. One proposal comprises a cylindrical tank tied to a spherical balloon filled with helium, as shown in the figure. It is specified that the tank should have a diameter of 1.5 m and a height of 1.3 m and be made of welded stainless steel sheets, with a thickness of 1.6 mm and a specific gravity of 8.05. Sea water has a specific gravity of 1.025. Helium pressure is 120 kPa and the average ambient temperature is 10°C.
a) Determine the minimum diameter of the balloon for the top of the full tank to be at least h = 0.15 m above the sea level.
b) If the balloon bursts, would the tank float? if so, find the new elevation, h; if not, what do you recommend to do, so that the tank will float under all circumstances.
Contributed by Stavros Tavoularis, Department of Mechanical Engineering, University of Ottawa, Ottawa, Canada.